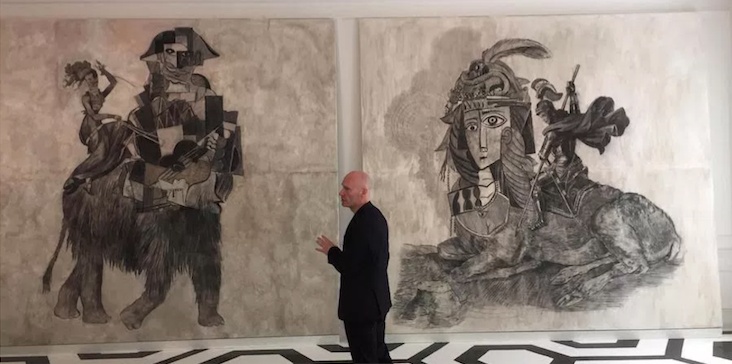 Picasso Among The Geishas: A New Show Transports The Record Shattering Modernist To Edo-Period Japan
By Andrew M. Goldstein, Artspace, May 12, 2015
"In 1920, the baking-powder heir William Ziegler Jr. built a magnificent mansion steps away from Central Park on East 63rd Street for himself and his wife, Gladys, but only lived there a year before his sudden divorce forced him to liquidate the property. The building then passed into the hands of the New York Academy of Sciences - from which it gets its sobriquet "the Academy Mansion" - and then, in 2005, to the billionaire Russian art collector Leonard Blavatnik. Now, the extraordinary space has been given over to a new exhibition curated by the enterprising duo Anastasiya Siro and Victoria Golembiovskaya, who go by the monkier House of the Nobleman. The show's theme nods to the building's early history, although it's not a divorce but rather a happy May-December marriage.
The twist is that the May ingenue in this case is Pablo Picasso, and the December spouse is the Japanese art of the Edo period.
Specially commissioned from the British artist Wolfe von Lenkiewicz, a technical whiz whose mashups of classic paintings make for the delightful pop art-history quizzes, the artworks that dominate the show fuse instantly recognizable 'samples' from Picasso's oeuvre with paintings done in the style of the geisha portraist Kikugawa Eizan and other 19th-century icons. There are also several sprightly takes on the Andalusian master by George Condo and Richard Prince, together with several small works on paper and a collage by Picasso himself. The title of the show is "Delurious Picasso", and it fits the fun-house feel of the installation (in which several pieces span entire walls).."
TO READ THE FULL ARTICLE PLEASE CLICK THE LINK BELOW
September 20, 2017